ADVERTISING - MUSIC & SOUND CRAFT - INTERNATIONAL
Original Music (2021)
2021 ADVERTISING - MUSIC & SOUND CRAFT - INTERNATIONAL (Original Music)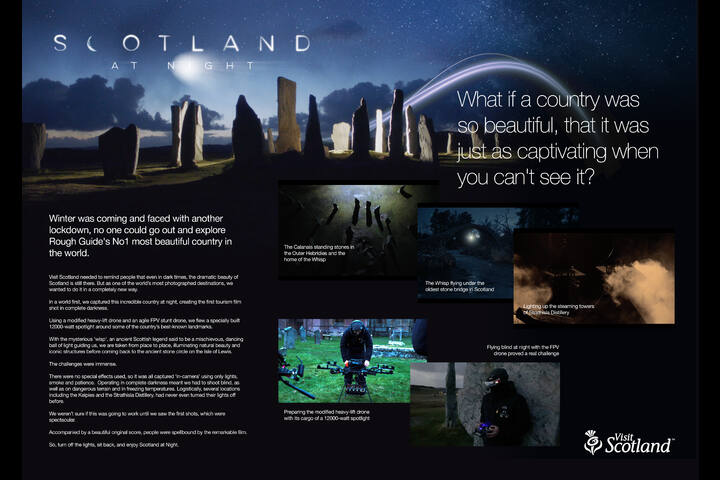 JPG
YOUTUBE 6m:33s VIMEO 2m:00s
Scotland at Night - VisitScotland
Scotland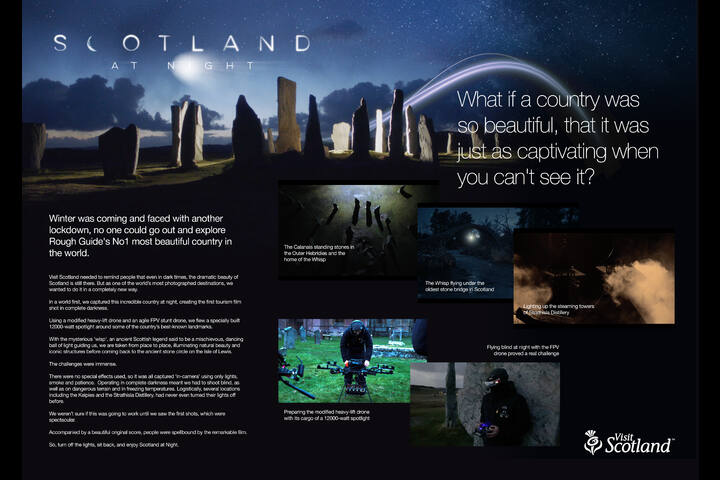 Shortlist
Title:
Scotland at Night
Brand:
VisitScotland
Product:
Scotland
Entrant Company:
Whitespace - An Isobar Company
Agency Network:
Dentsu International
Client:
VisitScotland
Creative Director:
Neil D Walker
Copywriter:
Jamie Ross and Neil D Walker
Account Director:
Claire Stephenson
Music:
Jamie Ross
Other:
Executive Creative Director - Chris Davey
Notes:
While no one could travel due to Covid, VisitScotland needed to remind people that even in dark times, the dramatic beauty of Scotland is still there. As one of the most photographed destinations in the world, we wanted to do it in a completely new way. We created the first tourism film shot in complete darkness using specially modified drones, a 12,000-Watt lamp, smoke and no CGI.

This film was purposely scored and crafted to evoke an emotional feeling of lament and longing to normality - a normality that WILL return.

As a mysterious 'wisp' guides the viewer, illuminating the natural beauty and iconic structures of Scotland, the score builds and flows in perfect harmony with the wonderful aesthetic and beautiful simplicity of the edit.

The film which gained widespread admiration and showed that Scotland is truly beautiful, even in total darkness.