DESIGN - INTERNATIONAL
Brand Identity (2021)
2021 DESIGN - INTERNATIONAL (Brand Identity)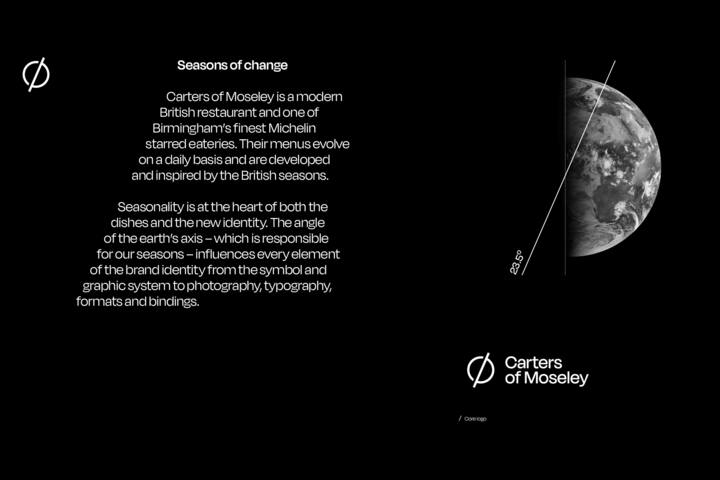 PDF
Carters of Moseley rebrand - Carters of Moseley
Carters of Moseley rebrand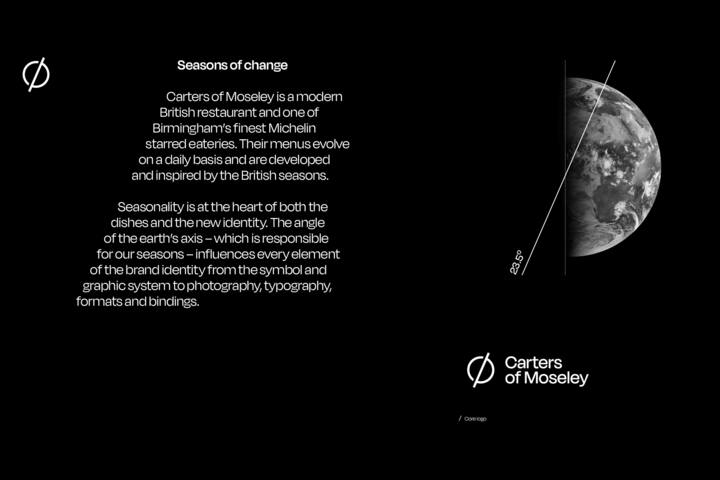 Bronze
Title:
Carters of Moseley rebrand
Brand:
Carters of Moseley
Product:
Carters of Moseley rebrand
Entrant Company:
Common Curiosity
Client:
Carters of Moseley
Creative Director:
Alex Woolley / Paul Felton
Designer:
Alex Woolley / Paul Felton / Carolina Magro
Photographer:
Jack Spicer Adams
Notes:
Seasons of change.

Carters of Moseley is a modern British restaurant and one of Birmingham's finest Michelin starred eateries. Their menus evolve on a daily basis and are developed and inspired by the British seasons.

Seasonality is at the heart of both the dishes and the new identity. The angle of the earth's axis of 23.5° – which is responsible for our seasons – influences every element of the brand identity from the symbol and graphic system to photography, typography, formats and bindings.