DIGITAL - INTERNATIONAL
Travel, Tourism, Hotels (2021)
2021 DIGITAL - INTERNATIONAL (Travel, Tourism, Hotels)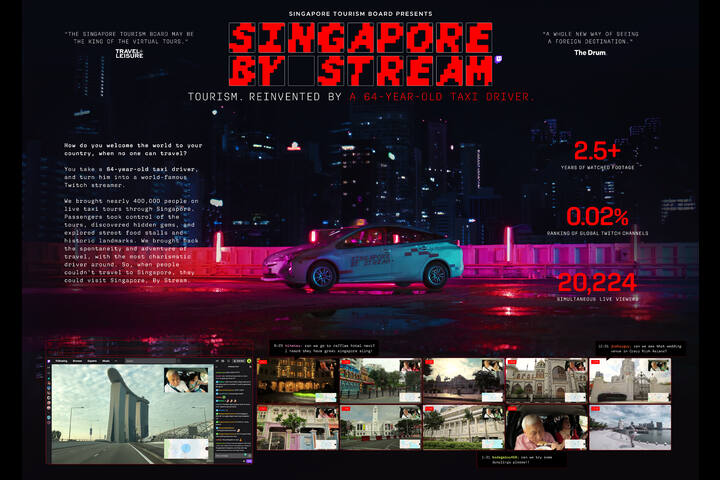 JPG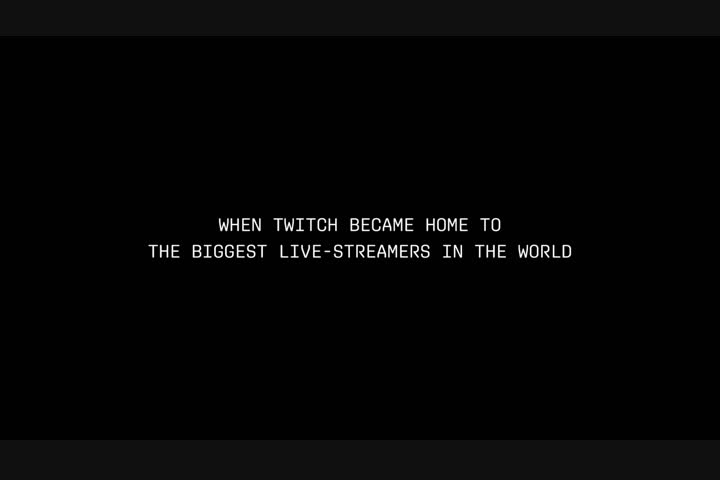 MP4 2m:00s
Singapore By Stream - Singapore Tourism Board
Singapore Tourism Board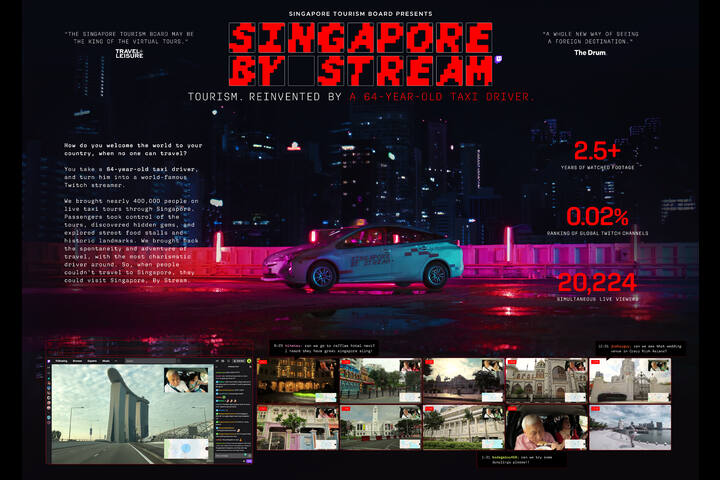 Silver
Title:
Singapore By Stream
Brand:
Singapore Tourism Board
Product:
Singapore Tourism Board
Entrant Company:
TBWA\Chiat\Day NY
Agency Network:
TBWA
Client:
Singapore Tourism Board
Creative Director:
Chris Beresford-Hill, Jexy Holman, Nuno Teixeira
Director:
Keith Kwek, Nicholas Chee
Judging URL:
https://www.twitch.tv/singaporebystream
Account Executive:
Nancy Reyes, Bruna Bechelli
Digital Strategist:
James Sowden, Jennifer Kung, Raymond Sein, Lesley Parks, Bodi Karsono, Emily Larsen
Production Company:
Breed / The Flying Kick Asia
Digital Producer:
John Doris, Jessica Fiore, Steven Kreuch, Lingun Sung, Clio Goh
Designer:
Robyn Makinson, Alexandra Floresmeyer, Vivian Lee, Jung Eun Han
Other:
Account Director: Juliana Braz, Chaney Hart
Other:
Art Director: Royston Ang, Belen Aragon
Other:
Copywriter: Kaleb Mulugeta
Notes:
With travel banned and borders closed, we opened Singapore up virtually, for people to explore through a gamified, fully interactive experience. We invited people to visit Singapore via taxi, from anywhere in the world. In doing so, we created the first virtual, interactive tourism experience on Twitch.

People entered the virtual cab, explored local hidden gems and historic landmarks, and got to know the taxi driver anyone would love to ride with. Through the tours, passengers explored the ins and outs of Singapore on Twitch, engaged in interesting conversations, and learned about the city-state's history and culture.